In the collection of:
Joan Baez,   Carol Burnett,   Glenn Campbell,   Cher,   Neil Diamond,   Bob Dylan,   George Harrison,   Michael Jackson,   Elton John,   Joni Mitchell,   Stevie Nicks,   Ringo Star,   Gary Wright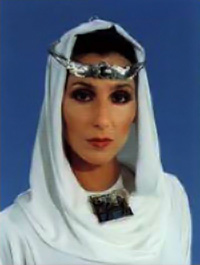 Sun Circlet & Apis Necklace
Cher commissioned me to make the Egyptian Apis Bull necklace because she was born under the astrological sign of Taurus. She also named her record label Apis. As I do, Cher has a strong affinity for the power of Egyptian sacred art.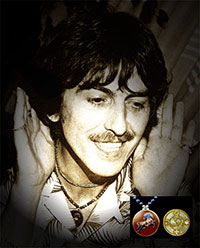 Dark Horse Necklace
George Harrison was one of my greatest joys to make custom pieces for. The Dark Horse pulls the Hindu deity Siva's chariot, which is the logo for George's records. On the reverse side are symbols of the major religions of the world.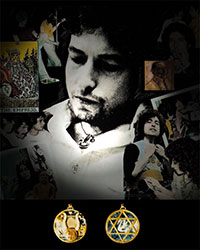 Sacred Muse Necklace
A lyre, symbol of Orpheus the Greek god of music, was chosen for Bob Dylan's necklace. On the reverse side is a white swan, representing the sacred muse. On the lyre harp is the sign of Bob's astrological planet, Mercury.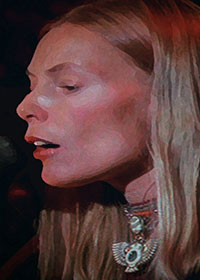 Alchemical Eagle Necklace
Joni Mitchell and I designed this necklace together incorporating her aquamarine stone. The symbol of the double-headed eagle was chosen representing the philosopher's stone. This necklace is featured in the film, The Last Waltz.
Movies
Gallery Shows
Fiengarten, Los Angeles, 1966
Orlando, Encino, Calif., 1968 – 70
Fairtree, Santa Barbara, 1973 – 74
The Egg and Eye, L. A., 1974 – 77
The Elements, N. Y. C., 1976 – 78
del Mano, Los Angeles, 1979 – 81
Alpine, Aspen, 1974 – 83
Kazanjian Jewels, L. A., 1978 – 83
Fred Leighton, N. Y. C., 1980 – 83
Peppertree, Cilabasas, 1981 – 83
Return, Taos, 1981 – 84
Cristof's, Santa Fe, 1984
Brandt's Pakhu's, Copenhagen, 1985
Prisma, Vienna, 1985
Silbermann, Munich, 1985 – 86
Blankenese, Hamburg, 1986
Dyansen, Beverly Hills, 1987
Emanuel, London, 1988
Hilde Groll, Vienna, 1988
Kachina, San Francisco, 1988 – 92
Aaron Fabor, New York, 1989 – 2001
Lakota, Santa Monica, 1987 – 90
Jensen Stern, Sun Valley, 1990 – 93
Lotus, La Hina, 1990 – 93
Helene Fortunoff, New York, 1993
Ornament, Santa Fe, 1987 – 2001
Tresa Vorenberg, Santa Fe, 2003 – present
Andrea Smith, Sedona, 2006 – present
Holli Jewelers, Sun Valley, 2013 – present
Horizon Gallery, Jackson Hole, 2015 – present
Sargent's Fine Jewelry, Lahaina, 2016 – present
Heyoka Studio Gallery , 1970 – present
Television & Films
"Treasures of Tutankhamun", KNXT TV, Los Angeles, 1978
"Positively Northwest", KXLY TV, Spokane, 1988
"L A Sene", Los Angeles, 1994
"Love at First Bite", 1979
"King of the Gypsies"  , 1978
"The Last Waltz" , 1978
"Sundancing with the Muse" , 2010
"Sundancing with the Muse" Montana PBS , 2014
Museum Shows
One Man Show at Santa Barbara Museum of Art, 1967
Craft and Folk Art Museum, Los Angeles, 1978-1981
Traveling Show with "Treasures of Tutankhamun" in Dallas; Los Angeles
County; Miami; De Young, San Francisco; and Seattle, Museums ,1978, 1979
Awards
Gold Medal, "Art USA '59", New York, 1959
Cash Award, S. D. W. C., San Diego, 1961, 62
Cash Award, Coronado Art Association, Coronado, 1963
Second overall, San Diego All Media Show, San Diego, 1965
First place Jewelry, Renaissance Show, Los Angeles, 1974, 75, 79
Blue, Red ribbon in Jewelry, S.W.A.I.A., Indian Market, Santa Fe, 1984